Description
Offered here are 3 uncut sheets of Japanese Menko cards, featuring scenes of Kimba, Kitty, Dan'l, Pauley, and other characters from the Kimba / Jungle Emperor TV show and manga.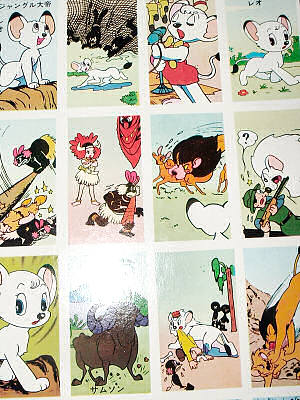 Some of the pictures match the style of characters on the TV show; others match the style used in the manga. Unlike other menko cards, the characters are very much on-model and the printing is sharp and the colors bright.

Menko cards were more than just trading cards. They were a "spiritual toy"; a way to meet and make friends, and used in battle games considered a way to prepare for the battles of adult life. Menko literally means a small object with a face. There were many different types of menko games, involving flipping opponents' cards or knocking them out of a ring. Japanese boys would treasure their memories of dramatic competition and conquests with colorful pictures of childhood heros. In the 1960s, television took over and menko cards were designed to be attractive and collectible items.

These uncut sheets of cards are in near-mint condition and show no sign of yellowing. They feature 28 different full-color pictures on the front; on the back are line drawings of some of the same pictures, with such things as rock-paper-scissors images to be used in menko games.

An original printing error has placed a thin red line through two of the color pictures. There are a couple of very minor scuffs; nearly all of the original lustre is intact.